the story
The reading plan our church has adopted this year is an adaptation of a famous schedule created by Robert Murray M'Cheyne for the church he served in Scotland. M'Cheyne was born in 1813 and died only thirty years later, yet despite his short tenure in this life he is regarded as one of the most influential Scottish pastors of his day. D. A. Carson writes, "His friend and colleague in ministry, Andrew Bonar, collected some of M'Cheyne's letters, messages, and miscellaneous papers, and published them, along with a brief biography, in 1844 as Robert Murray M'Cheyne: Memoir and Remains. That work has been widely recognized as one of the great spiritual classics. Within twenty-five years of its inital publication, it went through 116 British editions, quite apart from those in America and elsewhere. Contemporary believers interested in Christian living under the shadow of genuine revival could scarcely do better than to read and reflect on this collection of writings" (Carson, For the Love of God: Vol. 1 [1998], 11).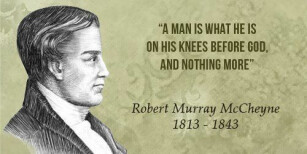 In our modern context, M'Cheyne is most known for his scheme of Scripture reading throughout the course of a year. In its original form, four readings were selected for each day. The first two readings were designated "family" readings because they were intended to be read together with your family. The second pair were labeled "secret" (cf. Matthew 6:6), because they were chosen for private reading during the day. Many have benefited from this approach of annual Bible reading, including many in our church. M'Cheyne's reading plan is the basis for our own, with a few slight modifications explained below.
The Scriptures
For our purposes, we have taken the four readings from each day of M'Cheyne's schedule and made the first three of them "recommended" and the final one "optional." If a person does both sets of readings each day, they will have progressed through the entire Old Testament once in the year and the entire New Testament and book of Psalms twice. If a person chooses only to do the "recommended" readings (i.e., the first three columns), they will complete the entire Bible in 2020. It's not a race. Either path would be beneficial, if you read prayerfully and reflectively. Ask God to reveal Himself and His Gospel to you as you read. The entire reading schedule can be downloaded by clicking HERE.
The SUPplements
The Gospel Coalition announced that they would be releasing material for free that corresponds to this reading plan throughout the year. This material will include some videos, podcasts, audio, and readings. The readings and podcasts will be drawn from D. A. Carson's For the Love of God (Volumes 1 and 2), which offer insights into the readings for each day. This is an incredible resource and it's being offered free to you. We encourage you to make use of it and subscribe to the resources The Gospel Coalition is offering. You can do so by clicking HERE.